---
Girls Summer Soccer Camp Information
Girls Soccer Camp to be held June 11-14, 2018

K-5th Grade: 8:30am to 11:30am
6th Grade to 9th Grade: 6pm to 9pm


Click on "Register Online" Above
Then Click on "Soccer (2)"
Then Click on "GEORGETOWN HS SOCCER CAMP"
Then Click on Correct Age Group

To Mail in Form
Click on "Mail in Form" Above
​Then mail in form to address on form
---
Boys Soccer Camp & Incoming Freshman Information
4th-8th Grade and incoming 9th Grade Player Information
2018 GHS Summer Soccer Camp - Available to ALL PLAYERS!Online Registration at:
https://georgetownisd.revtrak.net/Athletics/Summer-Camp-Registration/
Cost - $65 - Camp T-shirt included When - July 16-19th, 8am-11am Where - Georgetown High School Athletic Complex - Birkelbach Stadium What to bring? - soccer shoes, shin guards, water and a ball (we can provide a ball if you don't
have one).
We highly encourage all future GHS or EVHS players to attend this camp so we can communicate program expectations and identify player skill levels. This is also a great way to introduce yourself to the GHS Men's Soccer Coaching Staff!!!
Incoming 9th Graders
Important Information
MAKE SURE YOUR ARE REGISTERED FOR THE 1ST PERIOD JV SOCCER CLASS FOR 2018-2019 - Contact the Counseling Staff at GHS if you are unsure
You must have a completed physical on file with the trainers office at GHS on the 1st day of School!! Forms are available at:
https://georgetownisd.rankonesport.com/New/Home.aspx

You will need to complete the online portion of the physical and the submit a copy of your medical exam to the Trainers Office (Coach Hennessy or Coach Raduex) at GHS


There is a $50 player fee that covers your GHS Player Practice Kit that included 2 t-shirts, shorts and daily laundry service for the entire year. Please submit payment on the first day of school. We do offer payment plans and scholarships for students in need.
All future players are encouraged to email Coach Rich to introduce themselves or if you have any questions about summer camp or the GHS Men's Soccer Program! We look forward to meeting and working with you!
Jason Rich - Head CoachGeorgetown High School Men's Soccerrichj@georgetownisd.org
---
2018 REGION 3, 19-5A - ALL DISTRICT TEAM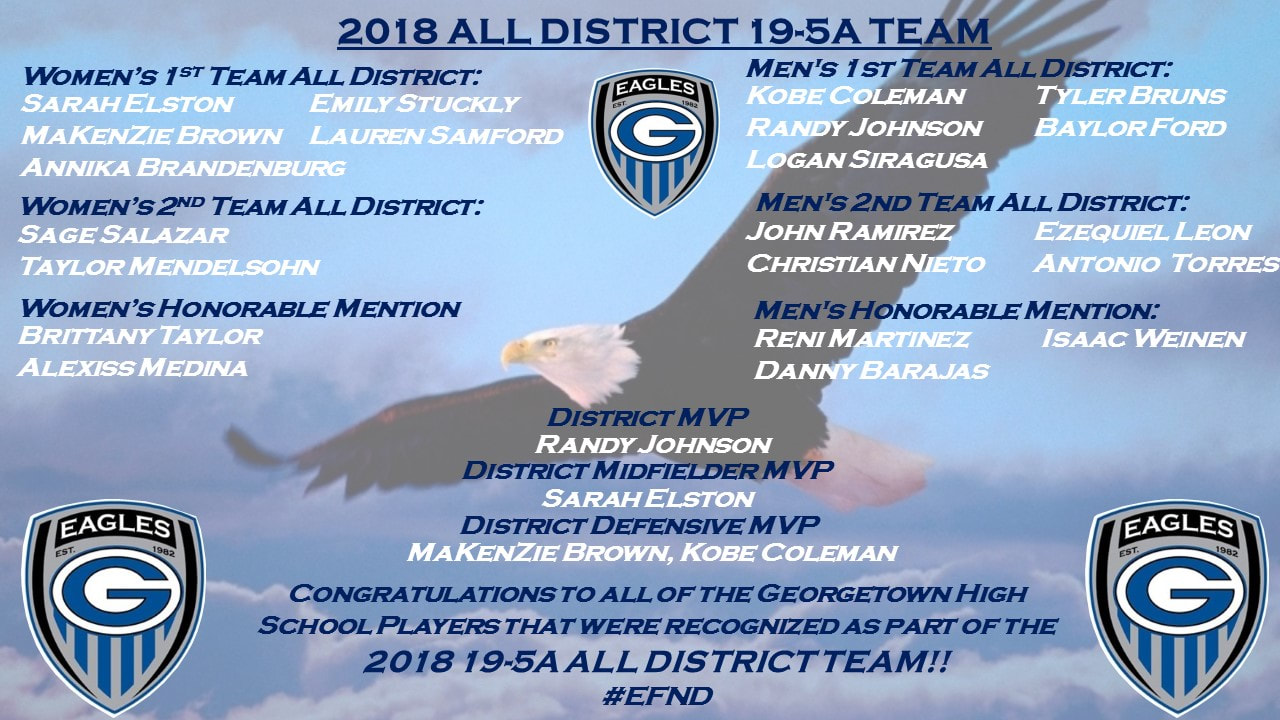 ---
2018 District 19-5A FINAL Varsity Standings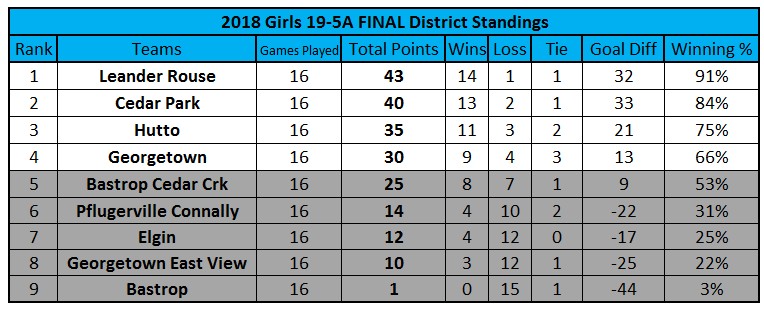 ---
2018 District 19-5A FINAL Boys Varsity Standings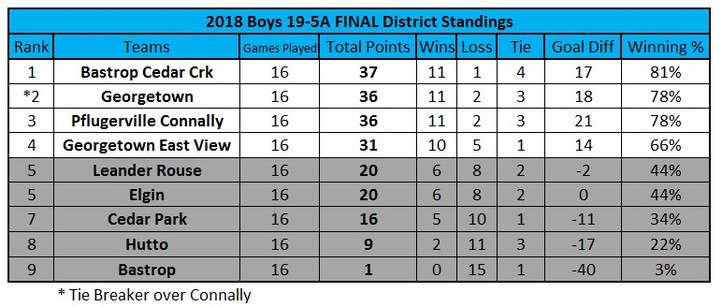 ---
2018 College Signings
GHS SOCCER SIGNINGS.
Congratulations to Sarah Elston, Randy Johnson Garza, Tyler Bruns and Kobe Coleman for signing their NLI's to play at the next level.
Sarah Elston - Schreiner University
Randy Jonhson Garza - Oauchita Baptist University
Tyler Bruns - University of Mary Hardin-Baylor
Kobe Coleman -
Oauchita Baptist University
---
2017-18 GHS Soccer Information
---
Important 2017/18 GHS Soccer Dates
April 18-21, 2018:
State Playoffs – GISD Stadium
May 7, 2018:
GHS Soccer Banquet - Georgetown Community Center
---
2017 District 19-5A All District Awards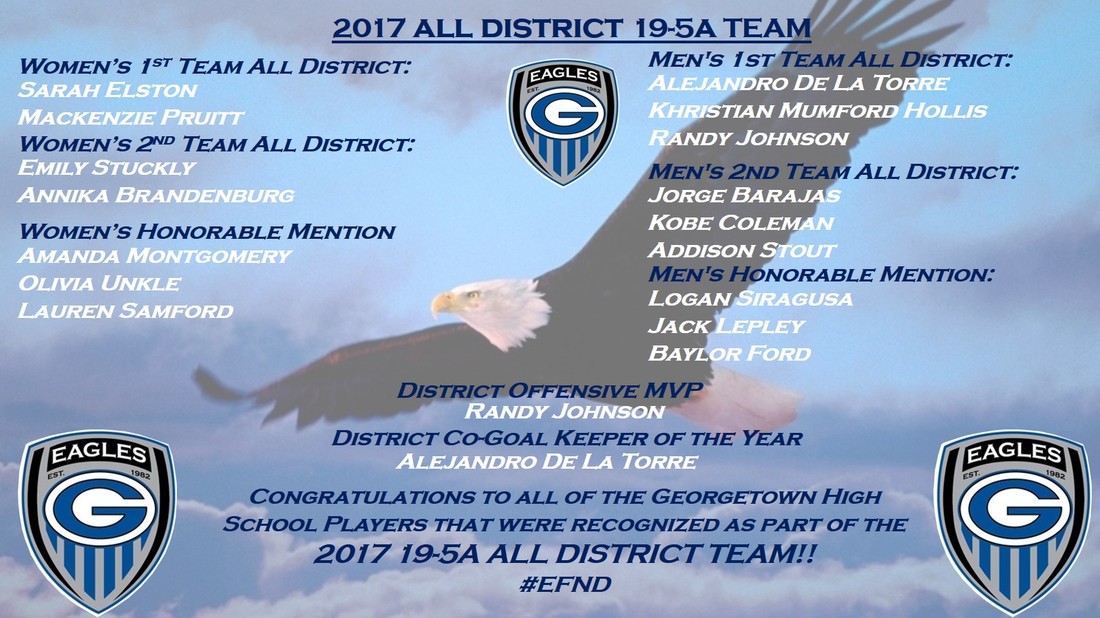 ---
GHS Booster News
---
Picture Day Order Form
For Players that still need to order pictures, Click on Picture Order Tab Below for form
---
---

2018 UIL State Playoffs
---
"Eagle Fight Never Dies!"